Cucumber and Tomato Salad
Ingredients:
2 medium tomatoes, sliced and quartered
1 large cucumber, peeled and sliced
4 green onions, chopped
1 tablespoon sugar
1 teaspoon salt
1/4 teaspoon pepper
1/3 cup cider vinegar
1 cup water
Directions:
In a medium bowl combine the tomatoes, cucumber and green onions. In a small bowl combine the sugar, salt and pepper. Whisk in the vinegar and water. Whisk until the sugar and salt dissolve Pour over vegetables and toss to coat. Cover and refrigerate for 4 hours or overnight. Serve with a slotted spoon.
Thought this would be a great time to post this recipe since the weather is starting to get nice in most places! My kids and I love this as a snack or side dish on a nice day! This recipe is also great for taking to a BBQ or get together!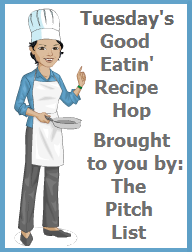 Welcome to the Good Eatin' Recipe Hop
hosted by
The 'Pitch List' Bloggers
Every Tuesday you can join us to share great recipes.........
There are no specific themes.
Add your recipe of choice to the linky.
No Giveaways Please...all giveaways will be removed.
We Love Comments! Please Share!
*Picture is not mine it's from here*