Our Family loves baked potatoes! After a while though a regular baked potato will not cut it! Do you ever wish you could have just a baked potato for dinner? Well I found the perfect answer! It's easy to make, cheap on the wallet and is super tasty!
The ingredients you will need are:
4 Large Potatoes
2-1/2 cups of California-Blend vegetables
2 cups cubed fully cooked ham
1 can condensed cream of broccoli soup, undiluted
1/2 cup shredded cheddar cheese
Half of a small Onion (optional)
1/4 teaspoon garlic powder
1/4 teaspoon pepper
Butter (Optional)
Sour Cream (Optional)
My 3 year old son is all about helping out in the kitchen (and sneaking some of the food to eat). If you have a kid that likes helping out in the kitchen this is a great dinner to make together!
Directions:
I normally start by cooking the California-Blend veggies in the microwave a little less time then the package recommends. I let my son dump the veggies into the bowl and I allow him to add the water. While the veggies are cooking I have my son help me put all the ingredients except the potatoes into a medium sauce pan. Once the veggies are done have your little one add them to the sauce pan. Next, since the stove is going to be hot I move my little man over to the sink and let him wash the potatoes while I stir the veggie mixture. The veggie mixture is done when the cheese is melted and it starts to bubble (normally about the same time the potatoes are done).
Once the potatoes are washed I have my son place them in the microwave and I turn it on. Cook the potatoes tell they are done (4 large potatoes take about 12-14 minutes). Cut an X in each potato add a little butter, the veggie mixture and a dollop of sour cream. ENJOY!
From my own personal opinion my kids love eating food even more when they help make it! It is a great way to introduce new foods to your kids! My kids are not picky eaters but it's never to early for kids to start learning how to help and be safe in a kitchen! I can tell you my son feels such pride when he helps make dinner. Instead of telling you though, i'll just show you!
Tell me he doesn't look super happy about his creation ;) Like the old saying says
"A picture is worth a thousand words."
Love Coupons-Love Samples-Love Life
~Amber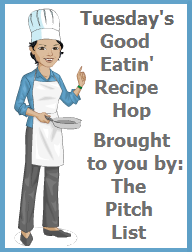 Welcome to the Good Eatin' Recipe Hop
hosted by
The 'Pitch List' Bloggers
Every Tuesday you can join us to share great recipes.........
There are no specific themes.
Add your recipe of choice to the linky.
No Giveaways Please...all giveaways will be removed.
We Love Comments! Please Share!