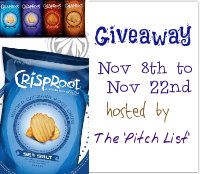 I have always been a salty snack eater. I am not really into many sweets. Don't get me wrong once in a great while I like to have a small candy bar or something but for the most part I like chips, peanuts, crackers and stuff like that for snacking. I was excited to get to try out
Cassava CrispRoot Chips
. CrispRoot chips are made from the exotic and healthy Cassava root.
CrispRoot chips come in four flavors. They come in Sea Salt, Original, BBQ Bliss and Thai Ginger. Out of all of them my favorite was the BBQ Bliss. My husband really liked the Sea Salt and Original. My husband and I didn't really care for the Thai Ginger but our kids loved them. The Original was my husband's overall favorite. I didn't exactly care for the Original because they have a sweet flavor to them. My husband has a huge sweet tooth unlike me. I love having chips and dip. The Sea Salt chips where perfect for chip dip. The CrispRoot chips have ridges and hold the dip very well. CrispRoot chips are very crunchy and very tasty.
The awesome thing about CrispRoot chips is that even with just four flavors we felt like they had a flavor for everyone. We all found a favorite and honestly had a hard time putting them down once we started eating them. CrispRoot chips have 30% less fat and double the fiber over your typical potato chips.
Here are some of the healthy perks of CrispRoot Chips:
Double the Fiber of Regular potato chips
30% less fat
Gluten Free
Dairy Free
Perfect for Dips
No yeast
No coloring
No preservatives
No cholesterol
No Trans fat
So now I bet you are wondering what in the word Cassava is. *This information is from the CrispRoot Website* Cassava is also known as tapioca, manioc and yuca. Cassava is native to South America but is cultivated all over Asia and Africa. The chips are made from the roots of the Cassava Shrub. Cassava root is the primary energy source for 800 million people all over the planet!
This picture is from the CrispRoot
Website


Overall CrispRoot chips are delicious and crunchy. They have very unique flavors compared to regular chips. If you are looking for a new snack I highly recommend CrispRoot chips! Check out CrispRoot on the CrispRoot Website, Facebook and Twitter.
CrispRoot is offering for 5 lucky winners to receive a mixed case of 12-5oz bags! You can enter using the form below! Giveaway ends November 22nd!
a Rafflecopter giveaway
No purchase is necessary to enter. Void where prohibited by law. The odds of winning are based on the number of entries received. This promotion is no way sponsored, endorsed or administered by, or associated with Facebook and is Facebook-compliant. Winners will be notified by email from a 'Pitch List ' Blog. Winners will have 24 hours to respond or risk forfeiting their prize. Prize fulfillment is the sole responsibility of the sponsor. The blogs participating may not be held liable for Sponsors who do not fulfill prize shipments.