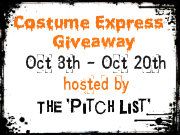 This is the first year ever ordering costumes online for my family! I have to say I love it. It seems so much easier than going to the store and having a hard time finding the right costume (and size) because everyone else seems to want the same costume (and size) you want.
I got very lucky to be able to do a review on a CostumeExpress.com costume! My husband picked out the Prisoner Shirt and I got some Electric Flamingo Pink Temporary Hair Color to color my daughters hair to match her Halloween costume!
CostumeExpress.com has lots of costumes to pick from. They have adults, teens, kids, toddler, baby and pet costumes. You can also order accessories and party supplies! I am very impressed with everything CostumeExpress.com offers!
I am very happy with how well my husband's Prisoner Shirt is made. The Prisoner Shirt did not come with any loose strings hanging off of it or any loose buttons. I don't know if I just have bad luck or what but it seems I always purchase stuff and don't notice loose buttons or hanging strings tell it's to late too take it back.
The Temporary Hair Color I got for my daughter we have not used yet, we are saving it for Halloween. I am very impressed with the color of it though. I was also very happy with the way CostumeExpress.com shipped the Prisoner Shirt and Hair color together. They put the Temporary hair color in a very tight sealed baggie so if it did accidently get open it would not get all over everything!
Out of everything CostumeExpress.com has to offer though I think my favorite thing is that they now offer free exchanges* if your costume does not fit. You can read more about this
Here
!
CostumeExpress.com is giving away (1) $100 costume code and (1) $50 Costume code! This giveaway is brought to you buy The Pitch List and sponsored by Costume Express. You can enter to try to win using the Rafflecopter below from October 8th - October 20th.
a Rafflecopter giveaway