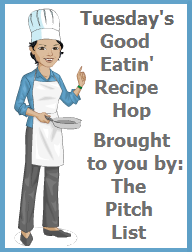 Welcome to the Good Eatin' Recipe Hop
hosted by
The 'Pitch List' Bloggers
Every Tuesday you can join us to share great recipes.........
There are no specific themes.
Add your recipe of choice to the linky.
No Giveaways Please...all giveaways will be removed.
We Love Comments! Please Share!
Ingredients:
1 Large egg per person
A splash of milk per egg
2 Tablespoons prepared Marinara Sauce per person
1 Whole-wheat English Muffin per person (split and toasted)
2 Tablespoons shredded cheese per person
2 Slices pepperoni per person (optional)
Preparation:
1). Preheat oven or toaster oven to broiler
2). Crack eggs into a medium bowl, add milk and stir.
3.) Coat a small nonstick skillet with cooking spray and heat over medium-high heat. Add egg and cook, stirring often, until set into soft curs. 1 or 2 minutes.
4.) Spread marinara sauce on English muffin halves.
5.)Top with the scrambled eggs, cheese and pepperoni (if using).
6.) Broil until the cheese is melted, 1 to 3 minutes.
This is my son waiting for them to come out of the oven. He loves helping make this recipe :)
This is what they look like coming out of the oven!
7.)Then you just put them together and eat them!