Crescent Pizza
Crescent Pizza
What you need:
1 can (8 crescents) regular crescents
1 can (8 crescents) Garlic crescents *new*
Pizza Sauce
Turkey Pepperoni
Mozzarella Cheese
*Any other toppings you want*
Directions:
Get a cookie sheet. You need to roll one regular crescent roll out flat. Add a small amount of pizza sauce on it then put a light amount of cheese on it and you pepperoni and any other toppings. Next take a garlic crescent roll and lay it flat. Add a little pizza sauce to it and then lay it on top of the regular crescent roll with the pizza sauce facing the toppings! Bake according to the package!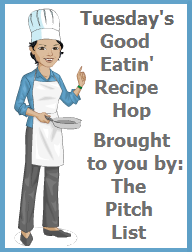 Welcome to the Good Eatin' Recipe Hop
hosted by
The 'Pitch List' Bloggers
Every Tuesday you can join us to share great recipes.........
There are no specific themes.
Add your recipe of choice to the linky.
No Giveaways Please...all giveaways will be removed.
We Love Comments! Please Share!