My family and I love chicken! We are always looking for new recipes and I recently had a friend give me this recipe and it's a new favorite in our house!
Ingredients:
1 can of Cream of Chicken Soup
1/2 cup of Herdez Salsa Verde (or any green salsa)
8oz. of Sour Cream
2-3 Chicken Breasts ( or I used 2 or 3 large cans of canned chicken)
Mixed Cheese
Burrito Tortillas
Directions:
Preheat oven to 350 degrees
Cook chicken, if it's not already cooked. Combine soup, sour cream, salsa and chicken in a medium bowl. Tare apart the tortillas and do one thin layer in the bottom of a 9X13 pan, then do a layer of mixture, a layer of cheese and repeat one more time (tortilla, mixture, cheese). Bake for 20 mins or tell warm and cheese is melted.
This is what the Chicken Enchilada Bake should look like before going into the oven:
This is what the Chicken Enchilada Bake should look like coming out of the oven:
Let the Chicken enchilada Bake cool for a minute or two and then serve!
Love Samples-Love Coupons-Love Life
~Amber
Want some more great recipes? Check out The Pitch List's Tuesday's Good Eatin' Recipe Hop! You can also see more of my recipes
Here
!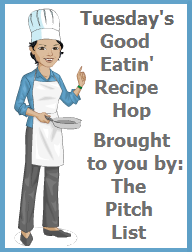 Welcome to the Good Eatin' Recipe Hop
hosted by
The 'Pitch List' Bloggers
Every Tuesday you can join us to share great recipes.........
There are no specific themes.
Add your recipe of choice to the linky.
No Giveaways Please...all giveaways will be removed.
We Love Comments! Please Share!