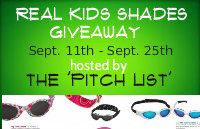 I was so excited when I got picked to review
Real Kids Shades
! The first thing I did was I headed over to their website to see what kinds of shades they had. Part of me was nervous that my son would probably break them before I was even able to snap a picture of him wearing them. While searching Real Kids Shades website I ran across the
Flex Duo Shades
! The shades are two-tone coloring and are super flexible! When I read all about Flex Duo I knew those would be the best pick for my little boy the destroyer!
The Real Kids Shades showed up at our house a few days later and as soon as the box got opened my son took off with the glasses! I literally felt my body shiver as I was thinking great here we go he's going to break them. The shades had not even been in our house a minute and my son ran down the hall way with his Flex Duo's on and face planted on the floor (he was fine :). I was so surprised when he got up and I looked at the glasses. Not a single scratch or crack to be found! It was that very moment I fell in love with Real Kids Shades!
As a mother I don't want to spend tons of money on sun glasses that are just going to break. I want my kids eye to be protected from the sun but I don't want to spend $5 dollars a week on sunglasses that break and who knows if they really work! The Real Kids Shades-Flex Duo cost $14.99 and have lasted longer then any other pair of sunglasses I have bought for my son! I love the price of Real Kids Shades but even better news is Flex Duo Shades give 100% UVA and UVB sun protection, have a wrap-around design to guard against peripheral sunlight, has a flexible frame and temples and every pair comes with a removable neoprene strap!
We have let our son wear the Real Kids Shades a ton of times since we received them. He has wore them in the car, at the fair, going for walks and just playing outside! The glasses still look the same as when we received them! I highly recommend Real Kids Shades to anyone with kids 0-12 years of age! Any product that can stand up against my son Wesley the destroyer gets 100% approval from this mommy!
*This product was given to me free of charge to do a review on. I was not in any way compensated to do this review and everything wrote is my own opinions!*
a Rafflecopter giveaway